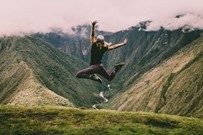 Hello and welcome to this week's blog, Just Keep Moving – Part Four.
But firstly, MERRY CHRISTMAS and Yuletide Greetings from my home to yours, from my family to yours. I hope that you have a wonderful break from work, and you eat, drink, and make merry to your hearts content.
Remember to keep moving, despite the extra goodies you will be eating, not only will you be able to eat a few more goodies, and a few more after that, you'll stay in a great mood and able to enjoy the festive period for the duration.
A good way to incorporate extra movement over the festive season, is to go on long walks with your family. Choose streets if you are not keen on mud, otherwise welly up and find some puddles for the kids to enjoy. I can highly recommend Burbage Common for walking; you can choose a different route every time and it has easy access and great parking. www.acornscoffeeshop.co.uk is open most of the year and is doing great tasting hot drinks and cakes to take away.
Another great place to walk is along the roads and paths down Lychgate Lane in Burbage and around Aston Flamville, if mud isn't your thing. And if you don't mind slipping everywhere, the canal through Hinckley is a lovely place to visit all year round, although definitely muddy right now. You can come off the canal at one of the bridges and end up back in Hinckley or Burbage, depending on which direction you walk.
I also love to walk around the town itself and enjoy looking at the architecture and discovering the history of Hinckley.
Let me know which route you decide to take.
If you are having trouble getting more movement into your day, or aren't self-motivated, I run one-to-one Personal Training sessions, specialising in getting you away from a sedentary lifestyle and back into regular activity, and remedial training to overcome repetitive injuries and painful movement.
Please email [email protected] if you'd like to enquire about personal training, and if you wish to book a massage if sore muscles are stopping you from being active, book online at www.astralfitness.co.uk .
My prices are increasing on January 1st, however I am offering a locked in price for 1 year if you take out a Massage Membership with me before the end of the year. Check https://astralfitness.co.uk/benefits-of-regular-massage-part-four/ for more details and email me to register your interest.
Thank you for taking time to read this blog Just Keep Moving – Part Four. See you soon,
Chloe