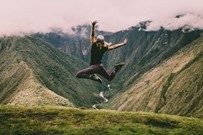 Hello and welcome to this week's blog, Just Keep Moving – Part Three in December and Christmas is just around the corner!
Some good first steps to take, is walking, which I mentioned in my last blog. If walking isn't really something you enjoy, then think about what does feel good for you. You know, the activity that you look forward to doing after the initial DOMS wear off. DOMS are Delayed Onset Muscle Soreness, and you can come and get a massage if you feel that it is too much to bear while you are getting used to your new movement and activity regime.
If you're not sure what you like, then I urge you to give several things to try. Get onto www.youtube.com and type in Yoga with Adriene. She has some amazing easy introductory sessions of yoga. There is also Leslie Sansone you can search for, who specialises in walking at home workouts. You can type in any workout type, in fact, and find something to suit complete beginners to advanced sessions.
Go on, have a go!
If you'd prefer floor routines and working on your mobility, I highly recommend looking at www.gmb.io as there movement plans are second to none. If you are able to, purchase their Elements programme and reap the benefits within a week. Maybe you'd like a live class to try some new movement, head over to www.facebook.com/lpfitness for her variety of classes on offer in Hinckley and surrounding areas.
The local swimming pool at the Hinckley Leisure Centre is amazing, as well as an abundance of classes. There are also local amateur sports teams from cricket, to rugby, netball and trampolining, to name a few.
The most important thing to take away from all of this, is to try something, anything, and to get yourself into a routine of movement.
Just Keep Moving – Part Three
Alternatively, if you are having trouble getting more movement into your day, or aren't self-motivated, I run one-to-one Personal Training sessions, specialising in getting you away from a sedentary lifestyle and back into regular activity, and remedial training to overcome repetitive injuries and painful movement.
Please email [email protected] if you'd like to enquire about personal training, and if you wish to book a massage if sore muscles are stopping you from being active, book online at www.astralfitness.co.uk .
My prices are increasing on January 1st, however I am offering a locked in price for 1 year if you take out a Massage Membership with me before the end of the year. Check https://astralfitness.co.uk/benefits-of-regular-massage-part-four/ for more details and email me to register your interest.
Thank you for taking the time to read this blog – Just Keep Moving – Part Three. See you soon,
Chloe