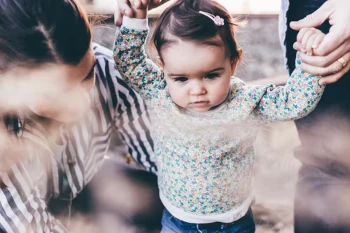 Hello and welcome to this week's blog. Movement is indeed a family affair, as I have handily mentioned in the title. If you feel like you lack time to be active, or to exercise, or to move particularly with intention and variety, mostly because of work and familial commitments, then perhaps you need to get the whole family involved with healthy movement?
How does that look at different ages of children and adults though?
Babies
Babies love moving, from the moment they're born, their muscles are twitching and raring to go. You'll see their legs bounce, arms wave, and their face practice every movement it can. Then come the full body rolls and crawling. Make their movement a part of your movement routine. Get down on the floor with them and mimic next to them, make eye contact to increase your bond, just get down there and go with the flow while feeling what needs to be improved upon in your next adult only session, and you'll need to do less because of the floor time you spend with your baby.
Young Children
Crawling, squatting, walking, jumping, rolling, running… you name a movement, your young child has probably done it. Get in there and do it with them, you will get more benefit from it than they will, as they are still benefiting from youthful exuberance and minus the joint aches and cracks! Take them to a park and climb the equipment and trees with them. Stamp in the puddles and race to the next lamp post. It all sounds very simple, and it is. But, when you are knackered after a day behind a desk or the daily commute, and it feels like the very last thing you need, that feeling is telling you that it is absolutely the exact thing you need to do. Right now.
Thank you for taking time to read this week's blog, check out next week for tips about movement with adult children and mixed aged children.
NEWSFLASH Astral Fitness' brand-new associate, Jen Llewellyn, is now taking bookings via our booking page at www.astralfitness.co.uk, and if you have had any previous appointment with me, you can book an ongoing appointment with Jen. You will still need to be assessed by Jen so she knows what to work on, but this will be a much quicker process for you than your first visit with me.
Thank you for taking time to read this week's blog – Movement is a Family Affair. I hope that you found some of this information helpful on your health and fitness journey. If you would like further advice, or are struggling with a pain and you don't quite know what to do, come and see me. You can use my Booking Link or check out my website for a little further information at www.astralfitness.co.uk
See you soon!
Chloe