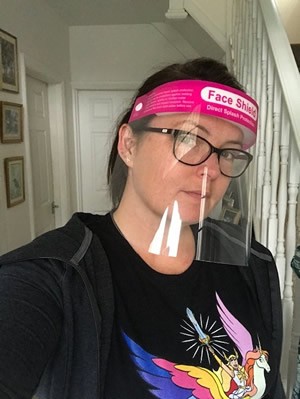 This is mandatory reading before attending an appointment. If you have any questions or queries, please do get in touch by email [email protected] or by phone 07719 435136. It is best to text because I cannot answer while in a massage appointment nor after while I prepare the room for the next person.
Before your Appointment – If you have a temperature of 38 degrees, a new or persistent cough, have a change or loss of your taste and/or sense of smell in the last SEVEN days then please RESCHEDULE YOUR APPOINTMENT.
Similarly, if you have returned from outside of the UK it is your responsibility to self-quarantine where necessary and notify me.
Arriving for your Appointment – please arrive as close to your appointment time as possible. I will arrive outside reception at your exact appointment time. Please wait in your car or outside the building away from the doors until you see me. DO NOT COME IN until I have come into reception or have invited you to do so.
Temperature Checks – I will check my own temperature before every appointment and record it for you to inspect on request. I will take your temperature before your appointment. If either of our temperatures exceed 38 degrees, then your appointment will be rescheduled.
Face Shield – the Picture above is a demonstration of the face shield I am required to wear. It prevents the landing of water droplets from both our exhalations. You do not need to wear a face shield.
Face Masks – it is now mandatory for you to wear a face mask for the duration of your appointment* from entering the gym building. I will also wear a face mask once in the treatment room for all treatments.
*you will not need to wear a face mask in the case of face down treatment if your face is in the face hole of the couch. If you choose to have your head up on your hands, or the pillow, your face mask needs to be on.
What is PPE – this is Personal Protective Equipment, and it is what you or I need to wear to minimise risk of viral contamination to one another, and to others who attend appointments. I will be wearing a face shield and a face mask for every appointment, and a waterproof wipeable apron.
Arriving in the treatment room – Please follow me to the treatment room after the temperature check. I will enter the room first and hold the door for you to enter. I will turn left in the room, you will close the door and turn right to walk between the couch and the sink, and you will sit down on the chair. I will no longer sit on the couch to talk with you, I will stand, to keep the couch as sanitised as possible.
What About Clothing; Therapist and Client – I always have and I always will change my t-shirt between massages as I often brush past or lean on your skin during treatment. Please wear whatever you are comfortable in and when it is time to undress you will place your clothes OVER THE BACK of the chair.
Gloves – these are not deemed necessary for massage because long periods of time in gloves can cause skin to break down and become more susceptible to infection. They are also responsible for spreading more germs around than well washed hands. However, if you would prefer that I wear gloves for your massage, then I will.
Apron – I will be wearing a fabric apron constructed from nano fabric. It is waterproof and completely wipeable so that I can fully disinfect it between clients. I have chosen this over disposable aprons to help protect the environment, and plastic tends to stick to waxy skin and cause a nuisance.
Personal effects – please bring as few items into the treatment room as possible. If you can leave your bag at home, please do. I have a basket under the chair for BAGS ONLY. Wallets, purses, phones, and keys can be placed in your bag or on the table next to the chair.
Hand Sanitiser – there will be a bottle of sanitiser on the table for your use. Please use this whenever you feel necessary but ALWAYS immediately before getting on the couch. I will sanitise my hands regularly.
Hand Washing – I will wash my hands immediately prior to touching your skin and immediately afterwards as well as using hand sanitiser where appropriate. You are also welcomed to wash your hands should you wish.
Treatment Couch Hygiene – the couch itself will be completely stripped and disinfected between every use using a high alcohol sanitising spray or wipe. There is an electric blanket placed on the couch for your comfort, followed by a cushioned layer. On top of this will be a disinfected nano fabric waterproof cover. Then a disinfected silicone face cushion covered with a disposable face cover. Fabric pillowcases for the plastic covered and wipeable pillow, which will be changed for every client. The couch will then have a towel covered with disposable couch paper for you to lay upon. Another towel will cover you.
The nano fabric couch cover is wide and covers any possibility of the electric blanket or cushioned layer from being touched. If you would prefer for these items to not be in place for your appointment, then let me know beforehand.
After your appointment I will remove all the soft layers that could possibly be touched, they will be placed in a covered storage box until the end of the day. Everything else will be disinfected, including the legs of the table where hands often rest and the floor, including beneath the face hole where people breathe down to.
Track & Trace (test and trace) – it may be necessary to give your details to an agency involved with testing, tracking, and tracing coronavirus cases. If you happen to fall ill within seven days of attending, or if someone else does, then just your name and your contact details will need to be passed on. They will not be passed on to anyone else or used in any other way whatsoever than for administering your appointments. No other GDPR rules will be compromised at any time. If you are unhappy with this possibility, then please CANCEL YOUR APPOINTMENT.
Cleaning Protocols – I will clean the couch, the chair, the table, the sink, the laptop, the laptop stylus, the wax bottles, the door handles and anything else that is regularly touched by myself or a you, between every appointment.
Toilets – there are toilets available within the gym building where my treatment room is. I have no control over the cleaning protocols of these rooms so please sanitise your hands upon return to the treatment room.
Ventilation – there are no windows in my room. There is a heater to aid air temperature and air circulation. If you like, you can choose to have the door open during your treatment. It will be open for at least twenty minutes between each appointment to aid air circulation.
Neck Massage – including shoulders, pectorals, and biceps, will require YOU TO WEAR A MASK which covers both your nose and your mouth.
Emails – you will receive a confirmation email at the time of booking. You will receive reminder emails 24 and 4 hours beforehand to remind you of your appointments and will sometimes change to reflect any new guidelines from the government. Please read them each time to stay up to date.
Leaving your appointment – there is a one-way system in place. I will lead you out of your appointment. Please do not touch anything along the way.
RESPONSIBILITY for your health and hygiene is YOURS. Please respect the protocols I have put in place to protect both of us. Ultimately you need to adhere to these instructions and do anything else that will make you feel comfortable for the duration of the appointment.
Further Reading – You can read the government's own guidance for close contact services for yourself and decide if you are happy with the precautions I have implemented from what they have advised.
https://www.gov.uk/guidance/working-safely-during-coronavirus-covid-19/close-contact-services
Thank you for reading and I look forward to seeing you soon.
Chloe