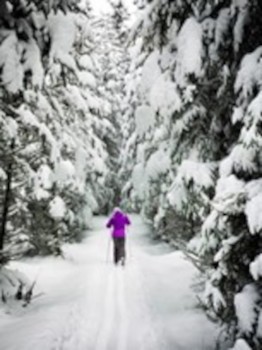 Hello and welcome to Part Two of this months blog, all about getting outdoors and a little bit about Christmas.
I don't know about you, but on the weekends I love to snuggle up on my sofa at home and watch cheesy Christmas movies with a beautifully velvetised* hot chocolate topped with a stroopwafel, but, I can't do that all day. Well… I probably could actually! But I don't feel great doing that all day long, so I like to be as active as possible in the mornings, getting a workout in, going for a walk to enjoy the outdoors and what it has to offer, then get cosy on the sofa – kinda feels like a reward!
But, if you're in the latter camp of doing that all day, why? Are you afraid to get out and get cold? What is keeping you indoors? Isn't it a nuisance to feel like you need to put extra effort in every single year come January, February, March… to get fit and strong again to enjoy all your summer activities?
Find the right clothing and get outdoors, thin light layers are best if you choose to run, as well as them being windproof to prevent a lot of the chilly air effecting you. If you need a new running jacket, then Harrier have just launched their water and windproof jacket and it looks amazing – it's definitely on my Christmas wish list.
Christmas Walks its eco!
If it's walking to the shops that you avoid and drive instead because it is cold, do your bit for the environment and switch back to walking. Layer up and consider a hat and scarf to keep the cold off your head and neck muscles. Muscles like to be warm and are happiest when they are warm. Plus you'll maintain your cardiovascular system and get your blood pumping, a vital way to stave off illness and chronic conditions.
*Hotel Chocolat Velvetiser makes the best hot chocolates I've ever had… if you know, you know.
Christmas Gifts– I will offer you the opportunity to buy your first three sessions of sports massage in 2022 with a discount for your own personal use, as I believe looking after yourself following the festive season is the best gift you can give all your loved ones. Check my online booking page for details and take advantage before it disappears.
If you would like more information about healthy movement in your life, I would be honoured if you would join my new Facebook group to help you with your mobility and movement goals www.facebook.com/groups/masteringmobility doors open on 5th January 2022 but you can request to join now!
Thank you for taking the time to read this week's blog, and remember if you need help with moving more, email me at [email protected], or your muscles are hurting and nothing else is cutting it, you can book in online for a massage at www.astralfitness.co.uk
See you next time,
Chloe