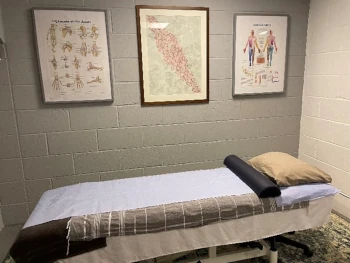 Hello and welcome to this month's blog, about the exciting changes that are happening here at Astral Fitness this year.
During January I made some changes to my treatment room, based within www.unitedsandc.co.uk on Leicester Road in Hinckley. Painting walls, furniture removed, furniture installed. As well as, new pictures, and this fantastic piece of artwork inspired by the knots you feel in your muscles. You may have to zoom in a bit to truly enjoy it – or book in for a sports massage to take a personal look at it.
What makes it particularly special to me is that it was painted for me by my little sister and brings a little bit of family into my every day. She does commissions of this type, so if you would like something similar, please do ask me for details.
Fantastic Piece Of Artwork – Exciting Times at Astral Fitness
Back to talking about massage – if you're finding that you're suffering with pain in your joints or muscles, why not come along to my new and improved treatment room, have a sports massage or try my new appointment offering, Massage & Mobility. If you're not sure what that is, think about if you have restricted movement in one or more joint, or pain that is restricting that movement, then it might be just the appointment for you. Massage for the first half of the appointment to alleviate any pain and aid blood flow to the area, then a specific mobility workout to increase the movement in that area.
Head to www.astralfitness.co.uk/bookings/ to book in directly, or chat to me about it if you have any questions.
Thank you for taking time to read my blog this week – Fantastic Piece Of Artwork – Exciting Times at Astral Fitness. If you have any questions about what massage could do for you, please do get in touch with me on [email protected]
Alternatively, you can go to my booking page on www.astralfitness.co.uk and book yourself an appointment, please do plan ahead though as appointments are going fast.
I also have a Facebook group to aid you with hints and tips with your fitness, head over to www.facebook.com/groups/masteringmobility and request to join!
See you soon,
Chloe