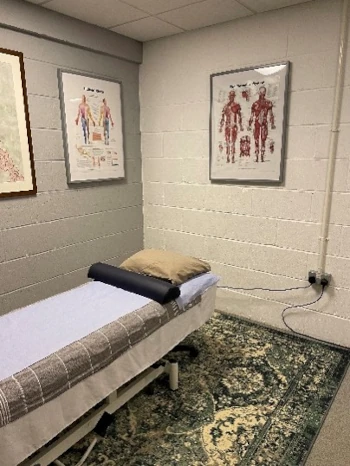 Hello and welcome to this week's blog, about the exciting changes that are happening here at Astral Fitness this year.
I have been a busy bee over the last few weeks, transforming my treatment room to be more functional for what I have intended over the coming months, as well as making it more welcoming for your treatments with me.
Two of the walls are a soothing grey now, the anatomical posters are in frames, which make them more enjoyable to look at when talking about your issues.
I have changed the position of the table in the room to allow more room to demonstrate exercises. As well as placing a run beneath the table to insulate against the cool air that arises from the floor as well as making it nicer underfoot.
I have removed the chunky kitchen style counter that inhabited the room and ate a lot of the space in the room, and replaced it with a floating desk, which has opened up the floor space remarkably. I have also introduced a kettlebell, dumbbells, yoga block, and a yoga mat, to enable demonstration of corrective movements and exercises for you.
Transforming My Treatment Room – Astral Fitness
If you haven't been in a while, maybe now is the right time to come back, enjoy the new space and forget about the world outside for an hour while your aches and pains are remedied so that you can move without pain once more.
Head over to www.astralfitness.co.uk/bookings/ to book back in.
Don't forget, that I have a new associate starting with me later this year, Jen Llewellyn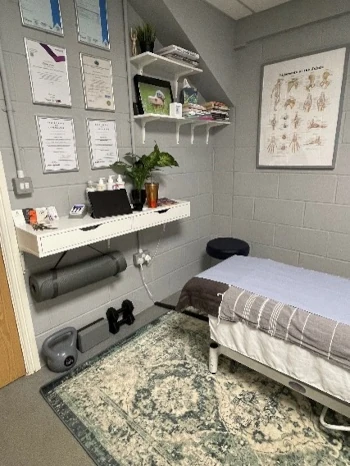 You may have seen Jen around when you come for your appointments or if you're a member of www.unitedsandc.co.uk, Jen trains there regularly, and I usually join her once or twice too – come and say hello to us!
Jen is very excited to get started working at Astral Fitness, and you will see her around in some of your appointments over the coming months. It is very important for her to gain real-life hands-on experience to enable her to pass her course, so you may meet her over the coming months.
Thank you for taking time to read my blog this week – Transforming My Treatment Room. If you have any questions about what massage could do for you, please do get in touch with me on [email protected]
Alternatively, you can go to my booking page on www.astralfitness.co.uk and book yourself an appointment, please do plan ahead though as appointments are going fast.
I also have a Facebook group to aid you with hints and tips with your fitness, head over to www.facebook.com/groups/masteringmobility and request to join!
See you soon,
Chloe