Cold can motivative – Get Healthy, Get Outside! | December Blog Part Four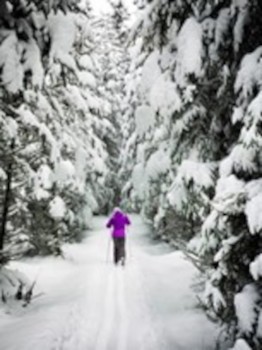 Hello and welcome to Part Four of your December blog, talking all about getting out of doors for your health and getting a jump start on a healthy new you ready for the new year – go on, be ahead of the curve for a change!
Did you know that your heart needs to work harder when it is cold? Thus, burning more calories, but also meaning that you do not need to work for as long! Who wouldn't want to take advantage of that?
It is a great tradition for many countries and cultures to partake in winter activities, like Christmas Day Sea swimming and Boxing Day running. Please do not attempt the swimming without experience of winter open water swimming, but why not use it as a goal for next year? You will get called crazy, but in an admirable way. Well, maybe!
If open water swimming intrigues you, please head over to Facebook and find the Leicestershire Open Water Dragonflies group to learn all about it before taking the plunge. It is something I am investigating getting back into myself, so I might see you there.
Cold can motivative
Trail running is particularly fun in the winter, there's mud galore to jump in, frozen puddles to crack wide open and avoid plunging into, and the cold air to motivate you to keep moving to stay warm.
If running or swimming is too much outdoors and cold for you to begin, then walking will definitely hit the spot. Hinckley has beautiful open spaces, and not just to take advantage of after Christmas dinner to work off all the extra food.
If you're not sure where to start, please do get in touch with me on [email protected]
Christmas Gifts– I will offer you the opportunity to buy your first three sessions of sports massage in 2022 with a discount for your own personal use, as I believe looking after yourself following the festive season is the best gift you can give all your loved ones. Check my online booking page for details and take advantage before it disappears.
If you would like more information about healthy movement in your life, I would be honoured if you would join my new Facebook group to help you with your mobility and movement goals www.facebook.com/groups/masteringmobility doors open on 5th January 2022 but you can request to join now!
Thank you for taking the time to read this week's blog, and remember if you need help with moving more, email me at [email protected], or your muscles are hurting and nothing else is cutting it, you can book in online for a massage at www.astralfitness.co.uk
See you next time and Merry Christmas,
Chloe