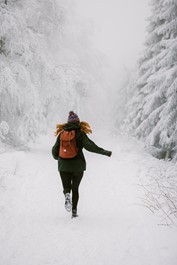 Hello and welcome to this months blog topic – Getting Prepped for Winter and Why it is Important. Winter is coming, and getting prepped for it can take a little while if your fitness has been a little off point over the spring and summer months.
Last week I talked to you about swapping one of your driving commutes for walking or cycling, or to go out at lunchtime if you work at home, or too far away to consider this.
This week I am going to talk to you about HIIT training. Yep, High Intensity Interval Training is a great way to fit in a more intense and full body workout than just walking or cycling, and to make it work if you have a hectic schedule, or you do not want to be working out for hours on end and want to see and feel results.
HIIT training can be up to 20 minutes, and it consists of a warm up, an intense period of work followed by a rest, then repeating the exercise or moving onto the next exercise. For example, you could do fast body weight squats for 45 seconds, then rest for 15 seconds. You could do three rounds of those and take a longer rest, then do three rounds of another exercise. If that sounds a little dry, you could do ten different exercises for that work and rest period, and only do each exercise once. Get over to google and search for HIIT workouts.
Getting Prepped for Winter and Why it is Important
You can lift light weights, or use resistance bands, or use just body weight. The options are limitless, and if your attention wanes quickly when it comes to exercise, do a different workout every time.
You can write up a workout from searching images of workout sheets on google, or head over to YouTube and follow a video, if that's more your speed.
There's a lot to think about, so if you are still not sure where to start, message me on [email protected] and take up my personal training services. I specialise in helping people get started on their fitness journeys, train around injuries and chronic conditions, as well as helping women understand just how strong and capable their bodies are.
Thank you for taking the time to read my blog today, I hope that you found it useful. Please head over to my bookings page at www.astralfitness.co.uk to get any of those aches and pains sorted out with Sports Massage before the colder air arrives.
Chloe.